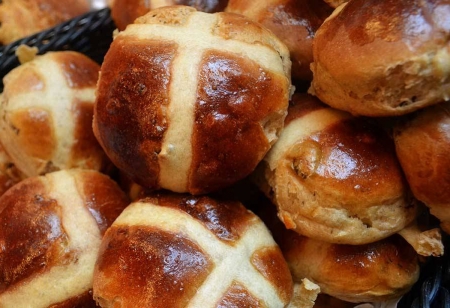 A high-fibre, low-gluten version of the Easter favourite from Olivier's Bakery
Sadly, the ditty 'one a penny, two a penny, hot cross buns' doesn't quite ring true these days: prices have risen since the late 1700s, when the rhyme was recorded. Yet even 200-odd years' worth of inflation can't dampen the excitement the sight of these plump fruit buns brings.
White pastry crosses gleaming, their dark, bronzed-brown, spiced dough simply bursting with fruit, they are an integral part of Good Friday for the majority: but diners of all denominations can enjoy hot cross buns—and if they're from Olivier's Bakery, you can eat them even if you're intolerant to wheat.
"Our buns are special," says Sophie, Olivier's sister. "They're made with spelt flour, which is low in gluten. Spelt bread is increasingly common, but it's hard to find spelt hot cross buns." The reason is twofold: spelt is both rarer and drier than, say, rye or wheat and "takes longer to bake, without flour agents or chemicals" which are anathema to Olivier, as to all bakers at Borough Market.
Joy-giving taste
He persists with spelt in the name of health—it is higher in fibre, as well as low in gluten—and in the name of joy-giving taste. The subtle maltiness is moreish; the dark hue lent by the wholegrain spelt seductive, spruced up by sultanas, sweet currants and tart citrus peel.
When, how and even why we have them is unclear as, beyond the aforementioned rhyme (which is cited as the first historic record in the Oxford English Dictionary), the hot cross bun's origins are subject to hot dispute.
Some claim Roman, some insist on Saxon and some even propose pagan origins. For Christians, the spices signify those used for Jesus's embalming, the bread communion, and the cross the crucifix, hence the buns being eaten on Good Friday.
Tangy Montgomery cheddar
Time will tell—or perhaps bury the truth yet further—but for our own part, we'll have them for breakfast, with or without butter; for lunch with some tangy Montgomery cheddar; or, like Sophie, just as they are, at elevenses, with a large cup of tea.