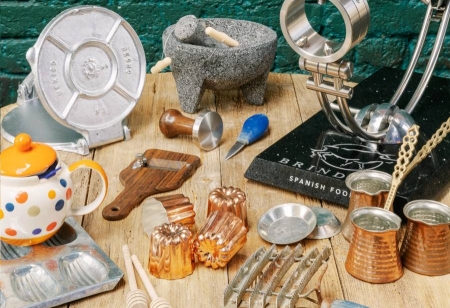 Blogger and Borough Market regular Ed Smith displays a talent for illustration as well as the written word, as he talks to stallholders about the tools of their trade. This month: the dough scraper
Olivier Favrel, Olivier's Bakery
We've been trading at the Market under the name Olivier's Bakery for five years, but I've been baking in London for about 18 years and, oh God, probably since I was 13. So, about 30 years now. I think I'm just about getting the hang of it!
We make everything by hand at our bakery, which is based near Borough, in Bermondsey. Of course there are mechanical elements to our process, like big dough mixers and, in the case of some loaves, smarter ways to cut the dough. But ultimately everything is shaped by hand, moved from stage to stage and finished by us, not a machine.
There's one tool that's with us every step of the way, one thing a baker will always have in their pocket: a dough scraper.
This is pretty much an extension of a baker's arm, and makes weighing, dividing and cleaning a much quicker, more efficient process than any other tool.
The A-Z of bread making
It's not a complicated thing. Just a 10 or 12cm square of stainless steel with a white plastic grip that covers, ooh, I dunno, 15 to 20 per cent of that metal. You can get plastic ones, which are great for going round the curve of a bowl and decent when baking at home. But they don't have enough tension to work the weights of dough that we make. You'd get a very tired arm with the plastic style, and they wouldn't last very long to be honest.
A baker will use a dough scraper for pretty much the A-Z of the bread making process.
From the moment you scale your ingredients, your flour, yeast, salt and water, you'll be reaching for the scraper to tidy up and discard waste.
As you mix your dough, the scraper comes into use to scrape the mixer and ensure there's no waste. We scrape the wet dough from our mechanical mixer straight away—and basically all that's needed to clean it is the scraper and a brush. A couple of minutes and the bowl of the mixer is as good as new. Of course, there's warm water and we clean it properly too. But as anyone who's tried to wipe up flour or dough with a wet cloth will know, you've got to have a nearly clean surface before then.
Completely by hand
If I was making bread completely by hand, I'd use the scraper to cut, divide and weigh my dough. Indeed, we do that for many of our loaves now, although I have to admit we've a mechanical divider too—we make 3,000 loaves every Saturday, many of which end up at Borough, so there's a lot of dough to divide and cut. But after that it's back to shaping by hand, and the scraper comes back into play.
We'll use the scraper when scaling [weighing] the divided doughs; use it to pre-shape and collect a loaf before shaping; use it to move it decisively and swiftly to a proving basket, tin, baguette shaper and so on. It goes straight under a loaf if you're trying to pick it up, whereas doing that with your hands would leave dough stuck to a surface and your loaf losing shape, structure and, importantly, air. Thinking about it, it's such an essential tool!
The scraper's a cleaning instrument too! We're using them constantly to minimise and reduce cleaning as we go along. We use bigger versions to clean trays and trolleys as well.
A scraper will probably only last a hard-working baker about six months. At which point they'll just start with a new one—this is a cheap, unglamorous tool. But during those six months, that scraper is still very personal. You don't want anybody to touch your scraper, and you'd know if you were using a different one to usual. Simple as that.