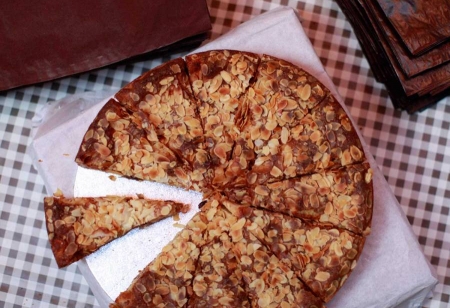 A fresh, summery dessert from Olivier's Bakery
Is it a pudding? Is it a cake? Sure, they suggest serving it with ice cream at Olivier's Bakery, but as a fellow customer wisely observes "ice cream goes with almost anything". The debate goes on. Suffice to say, even in the painful absence of ice cream (and the overwhelming presence of tea) at Friday feeling, apple bakewell works beautifully.
Buttery, shortbread pastry crumbles delectably on the tongue, bringing with it a wave of stewed apple, some juicy sultanas, a crisp raft of flaked almonds and—wait, what is that sweet, nutty, creamily granular sensation?
"Frangipane," says Biliana, "frangipane cream with vanilla and cinnamon. This is my favourite thing on the stall," she continues—a verdict we'd venture to dispute only on the grounds that everything else at Olivier's is so good.
Burst unexpectedly 
One of the secrets of the tart's enduring success among customers and stallholders is the practice of soaking the sultanas in lemon and orange juice for 24 hours before mixing them in, ready to burst unexpectedly in devourers' mouths.
"It's not too sweet, it is fresh, it is summery, the pastry crust is moist and biscuity—mmm!" concludes Biliana. We agree.